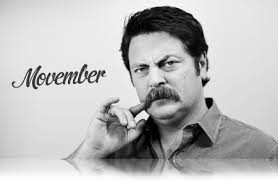 Once again it's that time of year – Movember. I'm not sure, while walking around Melbourne, if Movember is as popular as it used to be or maybe, with all the hipster beards and facial hair you see nowadays, I'm just less attuned to spotting a Mo.
Either way, Movember was born in Melbourne and from here it took the world by storm to gain over 5 million supporters worldwide. It really is an amazing cause and a great month of awareness raising for men's prostate health – an issue that isn't talked about enough.
Here at TwoScots we partner with a couple of charities (Breast Cancer Foundation and FareShare) and we donate 2.5% of every invoice to whichever one our client requests. However, for the month of November all monies go to Movember.
We also change our logo as well as internally encouraging all the guys to grow a moustache – much to everyone's entertainment. This year I have my fingers crossed that someone will go for the handlebar. We also have a team morning tea where we all bake and donate.
With the fun and interest the Mo's receives, it's easy to forget why we actually do this month of facial hair growth. I was recently reading that in the past 10 years Movember has raised over $685m globally, while also funding over 800 men's prostate health projects, a phenomenal achievement. Movember is about raising awareness and ultimately saving lives and what a novel way to do both of these.
Three of the guys here at TwoScots are in mid-Movember Mo growth so please feel free to go to our Movember donation page and support them. Watch this space for progress updates.