In our Team Showcase series, we shine a light on the team members embracing our 'wee bit different' ethos. Today, we're sitting down with the upbeat and vivacious Virali Sanghrajka, our highly-valued Senior Consultant in Office Support. A natural-born yet humble go-getter, Virali is taking strides to further her career goals, and is a true asset to our TwoScots family. 
Like a lot of young professionals, Virali had a yearning to return to University part-time, seeking to enrich her skills. She worked through an impressive relay of working nine-to-five and studying at night for three years. Virali dreamt of working overseas, and so after graduating, she booked a flight, touching down in Australia on a working holiday.
Initially Virali scoped out what was on offer in the Sydney market, but she was increasingly eager to explore the Melbourne market as well as the city's charming quirks. Since arriving in Melbourne town, she confesses to "never wanting to leave", with an energetic laugh. It was exactly what she was looking for. While her journey in Melbourne began at a larger-scale agency and allowed Virali to grapple with the fundamentals of recruiting, she ultimately longed for a boutique team structure and an "intimate" workplace culture. Now, she's one of the highest billing consultants in our team, after managing to more-than-triple her target in her first year working at TwoScots.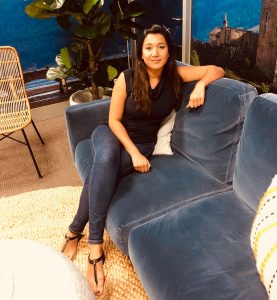 "I wanted something more team-oriented. TwoScots is all about you as a person and what you're looking to achieve personally as well as business-wise. You can always go up to anyone here and ask for a bit of help if you're needing it," she says. Within six months, Virali built vital relationships internally and externally to TwoScots HQ. She's since been promoted to a Senior Consultant role, serving as a credit to her enthusiasm, drive and passion to work in a team. "It's like a family here – it's very homely, and our candidates notice this too."
Documenting a 'typical' day in Virali's work life is tough, because her transactional, fast-paced role means that every week is mapped out and tailored differently. "It's so changeable," she notes, as most days are structured to be in and out of the office each morning for meetings, with wriggle room in the diary to attend to ad hoc tasks back at the desk. Known for her supportive nature and tremendous initiative, Virali's current agenda sees a brilliant initiative for an internal mentoring forum at TwoScots. "It will be a forum to discuss wins, challenges and personal achievements, ensuring everyone can integrate and bounce off each other's ideas across the different teams," she explains.
Each time the forum convenes, Virali plans to advise on a topic to kick off the fortnightly discussion, spanning everything from diary organisation to mastering the art of time management. It's no surprise that Virali's favourite facet of her role at TwoScots is the freedom to lead, guide and mentor her colleagues. It's just in her nature, as she constantly searches for ways to work harder and do more. "You can't necessarily see yourself as a recruiter; you have to see yourself as a consultant so that people genuinely want to come to you if they need to," she says. Striving for "candidate-client success" and the personal gratification this brings, Virali feels "confident that TwoScots will back me, constantly supporting my self-learning."
On her approach to discerning 'must-have qualities' in candidates, Virali advocates for a case-by-case basis. "On paper, you look for certain skill-sets. But it's when you speak to candidates and understand what their passions are, you can base decisions on progression and culture too." And when it comes to her advice on how to shine in the interview room, she describes transparency as paramount. "Be honest, have your resume up-to-date and don't ever sell yourself short," she says.
We hope to have shone a light on Virali's infectious personality and the integral role she plays in our team. If you'd like her to assist you, a friend or colleague in making that next career move, get in touch at virali@twoscotsrecruitment.com.au. Alternatively, you can give her a buzz on 03 8624 2518.