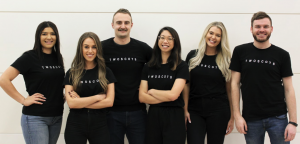 In true TwoScots fashion, we've had one hell of a sprint in the last week. We've smashed our $20k fundraising target with a knees up trivia night and then, far more seriously, with four of our employees running the Melbourne Marathon.
And what have we learned throughout our fundraising this year so far?
We've seen the strength of our professional relationships as so many people donated amazing prizes for our quiz; gave money and support for our runners; bought and sported a TwoScots tee and far more.
We've seen our support for each other grow as many of our staff spent a Sunday morning cheering on our marathon runners. Not to mention Giles, James and Paige who signed themselves up to run 42.2km alongside Jason; our director who both inspired our cause and crossed off a bucket list experience.
As a relatively new starter to the business (Hi, I'm Emily!) I've also learned a lot about the culture of TwoScots via how they commit themselves to a worthy cause. It's dynamic, passionate and above all caring. The team embraced me with open arms and that people first focus is what has made our 2019 charity work a huge success. It's integral to the way the business runs and it's why we don't hate Mondays.
We're not going to be halting our charity work for the year as we push to shift the goalposts to $25k. A target we will meet and surpass with the help of our fantastic personal and professional network. If you'd like to donate, please click here now.
We'll be refocusing for 2020 as we choose another charity to be announced soon. We're looking to align with a Melbourne based organisation who specialise in mental health, wellness and personal empowerment.
But this year we don't just want to donate, we want to create another ongoing relationship with an organisation who share our values and strive to achieve something bigger than themselves. We want to partner to run events, fundraise for campaigns and make a real change.
As we hit our tenth year in March, we're very aware of the stresses of running a business or working in a high achieving team. So, contributing to the voice which helps people who are struggling to keep themselves well is definitely close to our minds.
If you know any causes we should be partnering with to achieve these goals, please do let us know!